Al-fresco dining might be the most popular way to dine these days, but we all know it's only possible if you've got the blessing of the great British weather behind you.
For many hotel owners, this means it's an experience they can only offer their guests certain times of the year (weather-permitting, of course!)
And it's certainly not something many, if any, can offer in December.
But it's a totally different scenario if you're one of the increasing numbers of hotel owners, who are choosing to get more from their outdoor space, in spring, summer, autumn and, even winter.
You see, install one of our Cantabria canopy systems, and you won't just benefit from being able to use your outdoor space all-year round, you'll obviously be able to cater for more guests, and more guests, leads to more profits. Just ask any of the many hotel owners who are choosing to go down this route, they stand to generate a weekly revenue of up to £7,000, just from simply bringing the outdoors, indoors.
The Cantabria is a canopy system designed to help hotel owners meet the growing demand for outdoor dining and get maximum use from their outdoor space, all-year round.
Controlled by a single handheld remote or smart device, the roof can be retracted at the touch of a button, while the glass screens make it possible to easily transform an open space into a stylish, fully enclosed unit.
Jason Eastwood, managing director of Canopies UK, said: "We all love nothing more than getting the chance to sit and relax outside however, thanks to the great British weather, it's something that's really only possible to do in the UK two to three months of the year, and it's certainly something that can't be done during the winter.
"The Cantabria is a highly versatile system that's been specifically designed for the hospitality sector. It provides hotel owners with a guaranteed way to meet the growing demand for al-fresco dining, use their outdoor space in all seasons, generate additional covers and boost their profits, regardless of whether it's Christmas Day or May Day."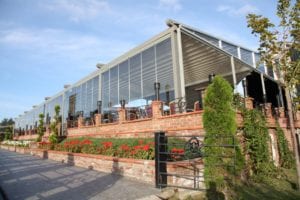 Use your outdoor space in all types of weather
The Cantabria's durable aluminium frame, integrated guttering, waterproof roof and glass screens combine to make a UV protected environment.
With an extensive range of glass sides to choose from – from fixed, folding and sliding, to balustrade and internal – the system is not just highly functional, but highly attractive. For instance, a closed unit offers 100 per cent protection in wind speeds of up to 60km/h. While in the finer months, the glass sides can be retracted, and come the cooler, wetter or more changeable weather, can be partially or fully closed.
Generate an additional weekly revenue of up to £7,000
Available in any length and ranging in projections of up to ten metres for single units and 20 metres for twin units, a new Cantabria canopy can create up to 184 additional weekly covers* and an additional weekly revenue of more than £7,000.**
Create a standout venue in its own right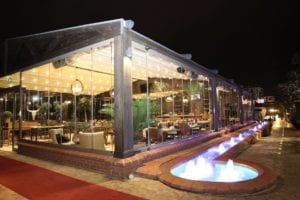 It's precisely what The Garrick Hotel in St Ives Bay, Cornwall have done since installing one of our Cantabria canopies:
"The Cantabria means our customers stay longer as we can alter its configuration according to the conditions. Frequently we close a couple of the wall panels to provide protection from the wind whilst opening the roof panels to varying extents to allow sunshine in some areas and shade in others.

"Interestingly, The Cantabria has become a venue in its own right. Local people are using the canopy and we have hosted a few parties. We have groups lunching there and are serving more food than in the hotel than the restaurant.
"People admire the quality of the structure and it's great for staff to be able to react to ensure customer comfort by opening or closing the canopy at the press of a button and controlling the heaters too."
For more information visit www.canopiesuk.co.uk/hospitality or call 01254 777 002.