Those in the hotel industry who frequent sporting events may have noticed the marked increase in the number of hotels located in, or adjacent to, the stadiums they are visiting in recent years. With the rise of staycations across the UK and consumer interest in stadium experiences, the popularity of these stadium hotels is growing.
It's not just anecdotal: Hilton, for one, has a strategic plan to increase its investment in stadium hotels in 2018. To date, it has opened 23 such hotels worldwide, a further four in the medium term pipeline, and more expected in the coming years. This growth is not only an investment in local economies but also a nod to the growing demand for "stadium experiences" aimed at catering to the most committed fans. It's about being integral to a sports spectator experience that combines excellent hospitality as well as entertainment.
"The UK sports sector is a multi-billion pound industry that accounts for approximately 2% of the British economy," explains Nick Smart, vice president of development for Hilton. "High-profile stadiums draw tens of thousands of visi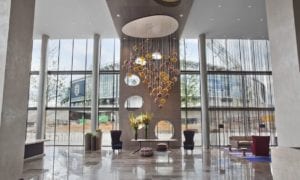 tors for any one event. Hilton London Wembley for example was built alongside the 90,000 seater Wembley Stadium and with regular events hosted at the venue, it's no surprise that hotel is performing very well."
Hilton currently has 6,475 rooms trading or under development at stadiums around the world and it is not hard to imagine how the numbers stack up from a balance sheet perspective. "Alongside the obvious draw of having regular large scale events in the immediate vicinity," says Smart, "stadium hotels are increasingly popular with the MICE [meetings, incentives, conferences and exhibitions] market. The 'wow' factor of some of our stadium properties – many have pitch side views, such as Hilton at the Ageas Bowl, Southampton, DoubleTree by Hilton at the Ricoh Arena – Coventry, DoubleTree by Hilton Hotel Milton Keynes, Hilton Garden Inn Manchester Emirates Old Trafford – is very appealing to corporate events and party organisers. Stadium hotels are often situated in suburban locations with excellent transport links which also adds to their appeal as corporate travel destinations."
The idea extends further than the boardroom of Hilton's UK business. Stewart Davies operations director at GG Hospitality, the company behind Hotel Football (owned by ex-football players Gary Neville and Ryan Giggs, outside Old Trafford football stadium) echoes the sentiment about the shape of this very particular hotel market.
"Manchester as a market has always had a problem in the summer months from June to August," he says, "where we do benefit from that compared to regular hotels is the stadium tours. During the summer months the museum tours increase in frequency so we get a lot of that trade for people coming to eat at the restaurant or staying at Hotel Football to get the full fan experience."
According to the PwC the average occupancy rate for a regional hotel in 2017 was 76% with the same number being forecast for 2018. By comparison, the average occupancy at Hotel Football for the same period of time was almost 10% higher at 85%. Hotel Football could also expect at least 3,000 people through its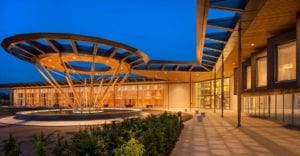 doors on a matchday, either staying at the hotel or dining at its Cafe Football restaurant.
A GROWING TREND
Stadium owners themselves are starting to take note of the growing popularity of these type of hotels, and there is evidence that some are even actively courting hotel brands to their location. Davies explains: "I think stadium owners are now understanding the need to grow the experience they offer from just the two hours of watching the football, or whatever sport is on offer, and keep their customers in and around the stadium for longer. You notice that stadiums are branching out to fan parks now which are a similar thing.
"The more they can keep the fan around their experience obviously commercially benefits them as it gives more of a opportunity. Stadium owners are now ensuring that hospitality and hotels are included in their stadium footprints. Instead of letting fans head back into the city centre for other hotels they can keep the consumer near the stadium for two, three days and with their growing events and conference facilities outside of match day, with hotels to boot they can add residential business as well."
Davies says stadium owners are not just aiming to do this with hotels – a plethora of different ways of 'capturing' fans for further commercial opportunities exists – but hotels are at the forefront of such strategies. Hotels are a reliable form of income in this setting and in getting guests to stay a night after the match, they can then build on that with the rest of the club and sporting experience.
However, the model is not without its problems. Davies says additional security concerns arise by being next to high profile locations with huge public traffic. Back in 2016, Hotel Football found itself at risk after the 75,643 seater stadium was evacuated on a matchday due to a fake bomb threat. Security in hotels has always been important, says Davies, but being next to such a large stadium "certainly heightens the challenges". Extra security is needed on match days to the safety of the approximately 3,500 people that come through the doors. As such, Hotel Football's security must be "on par with the stadium itself".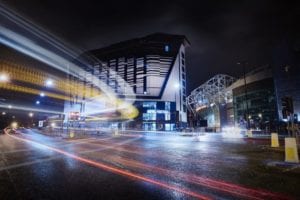 LONGEVITY OF THE MODEL
Despite these added concerns both those behind the Hilton and Hotel Football hotels believe that stadium properties are here for the long term, mainly because of the compelling business case through predictability of key consumer demand.
Hilton says Millennials, which will make up 75% of the UK consumer market by the end of the decade, prefer to buy experiences instead of possessions and as such they see a huge opportunity for their hotels and brands to be associated with sports and other entertainment venues. Consumers are demanding more from their matchday experience.
Much like Hilton, GG Hospitality is also exploring the opportunity. "I'm not sure it is necessarily a trend, more of an opportunity," says Davies. "I think that sport and football itself has developed to where it is no longer just a one day a week sport if you like. It has grown into one of the biggest businesses that there is, so where it was a one day a week potential business I think nowadays that there is a lot more that they can bring.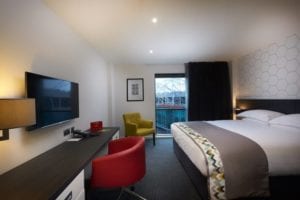 "I think it has become more of a focus as it it a model that, given that it is in the right location, has now proven that it works." He tempers the point by adding: "But I am not saying it is a new trend as such but an area from a commercial aspect that hotel companies are taking notes that it an untapped seven-day a week trade and there is definitely a opportunity there."
As hotels and stadiums continuously look for ways to increase the numbers going through their doors there is a significant and growing pool of top brass at major hotel companies realising the possibility for growth in this area. If everyone starts to pile in, passing a hotel on the way into a sporting arena will no longer be unusual, in fact the full stadium experience may even be stretched to the comfort of the hotel room itself.