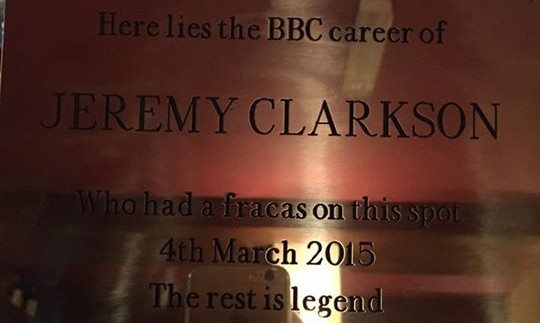 The hotel where Jeremy Clarkson's infamous 'fracas' with a Top Gear producer took place has hung a plaque commemorating the incident.
Simonstone Hall in the Yorkshire Dales posted a picture of the engraved plaque on its Facebook page, saying: "We were presented with this plaque from one of our guests last night! We think it would be quite appropriate to put it on the patio where the fracas took place!"
The plaque reads: "Here lies the BBC career of JEREMY CLARKSON, who had a fracas on this spot, 4th March 2015. The rest is legend".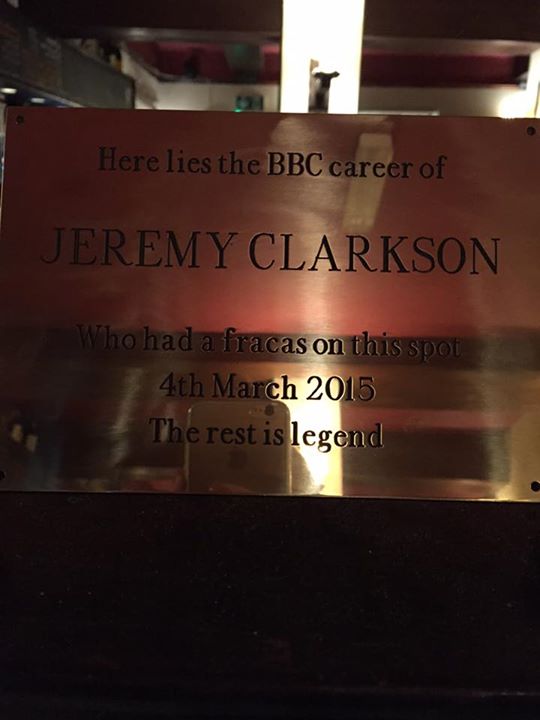 Clarkson was suspended by the BBC after he allegedly punched a producer in the face, bursting his lip, after discovering that their was no steak available to eat after a day's shooting for the programme.
Oisin Tymon was admitted to hospital after the incident.
Facebook users were quick to respond. Steven Welsby said: "I may be wrong but wasn't the argument started because Simonstone Hall was unable to provide the Top Gear crew with a warm meal at the end of a day's filming? If so, I'm not sure I'd be quite so quick to ride on the coattails of this incident."
Another, Julie Higginbottom, added: "If he had hit a member of your staff I can only hope your reaction would have been different. I am at a loss that you thinking the assault of one of your guests (that required that guest to visit a hospital) worthy of humour."