Property
Cotels launches fitness-focused serviced apartment concept
Guests will receive membership discounts from the local gym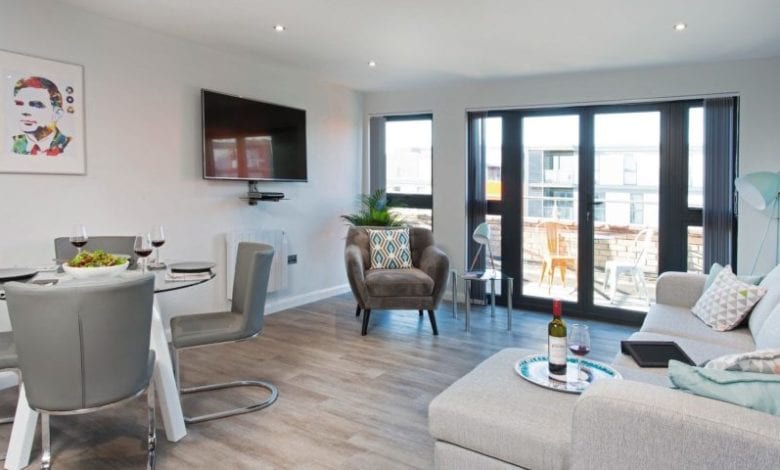 Cotels, a provider of serviced apartments in Milton Keynes, Northampton and Luton, has officially launched its brand new serviced apartment concept, 7Zero1, at 701 South Fifth Street in Milton Keynes.
7Zero1 has also partnered with nearby gym The Fitness Space Milton Keynes, to offer guests special membership discounts.
The branded self-contained serviced apartment building is made up of one and two-bedroom apartments with two penthouse suites, named Turing and Webber.
All apartments feature a fully equipped designer kitchen, Smart TV with full Sky package including sports and movies, unlimited Wi-Fi, Hypnos mattress and hypoallergenic bedding and cotton sheets from The Fine Bedding Company.
7Zero1 is also the first serviced apartment offering in Milton Keynes to offer a secure 24-hour automated key collection facility. It works with unique codes which are provided to guests that can be used 24 hours a day.
Guests will also be provided with a YourWelcome tablet which will be full of useful local information, including maps, city guides and recommendations.
7Zero1 will operate under a leasing agreement with experienced property development and management company, Jadefine.
Marcia Gomez, managing director of Cotels, said: "We're incredibly excited to have launched this new flagship venture, showcasing the best of Cotels with our fresh branding, stellar customer service and unique serviced apartment offering.
"At 7Zero1 we've taken fitness a step further than most, kitting out each apartment with equipment such as a Ninja Blender, yoga mat, hand weights and a swiss ball. Of course, you don't have to be a fitness fanatic to stay at 7Zero1 – each apartment has a comfy sofa and Smart TV, with full Sky Package including Sports and Movies, if you just want to kick back and relax!"